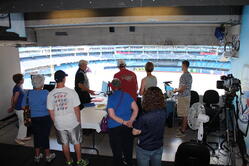 Our Mideast Tour started yesterday in Toronto with behind the scenes stadium tour with Buck Martinez. Buck, a former MLB player and manager, is the play-by-play announcer with the Blue Jays.
Our group met Buck prior to the game and was treated to early stadium access, views from the press box,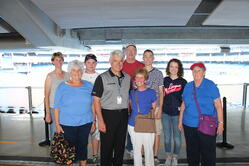 broadcast booth, in-stadium production area, and on-air production trailer. We finished right behind home plate as the grounds crew was
completing final field prep for the game.
The game was really fun, too. The Brewers took an
early lead over the Blue Jays only to see the Jays tie the game in the fourth inning. Both teams threatened to score but it wasn't until the bottom of the ninth that the game was decided by a three-run walk off home run by Edwin Encarnacion.
This morning we jump on the motor coach and head to Detroit. We'll see the Rays and Tigers tonight at Comerica Park. More from the road later!