We often talk about how much we enjoy exploring local restaurants when we're on our baseball tours across the country. Besides asking the locals for recommendations or just stumbling into our own finds, we often map out our meals based on places we've seen on Food Network or the Travel Channel.
Now that job has just been made easier...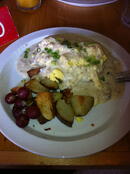 Here's a site, TV Food Maps, that allows you to search for restaurants based on the show, the episode or the location of the business. This is great if you saw a show featuring a business that you wanted to see but you couldn't remember the name.
For instance, Guy Fieri featured a Baltimore pit barbeque shop on Diners, Drive-ins & Dives, but I couldn't remember the name of it. A quick search on this app reveals that it is Chaps Pit Beef. So now as I plan my trip to Baltimore on our East Coast Baseball Tour this summer, I can be sure to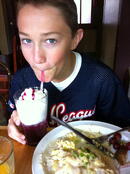 incorporate a visit to Chaps.
We've enjoyed some great dining experience on our tours as a result of these shows. Here are some past blogs that featured our stops: Lucky's Cafe (Cleveland), The Stand (NYC), and Flip Burger (Atlanta).
Here's a shot of the Cheddar Biscuits and Gravy (above) that we tried at Lucky's Cafe in Cleveland last year. They were fantastic. After talking with Chef Heather Haviland for a few minutes, she brought out a blueberry float for my son to try. It must have been good because he didn't let anyone else at the table have a chance to sample it! You know that our tour guide will be making their way over to Lucky's on our Midwest 2 tour again this year!
So check out the TV Food Maps app and use it when you are planning your baseball trips and tours this summer. Or better yet, join up with us on a 2012 baseball tour and we'll experience them together!!