One of my favorite things about our baseball tours is to offer our guests the opportunity to meet former Major League Players, hear them tell stories about their big league careers, and to get a chance to interact with them, asking questions and getting pictures and autographs. Maybe I like offering that to our guests because I enjoy that myself? In fact, I'm sure it is. I had a chance to do just that yesterday.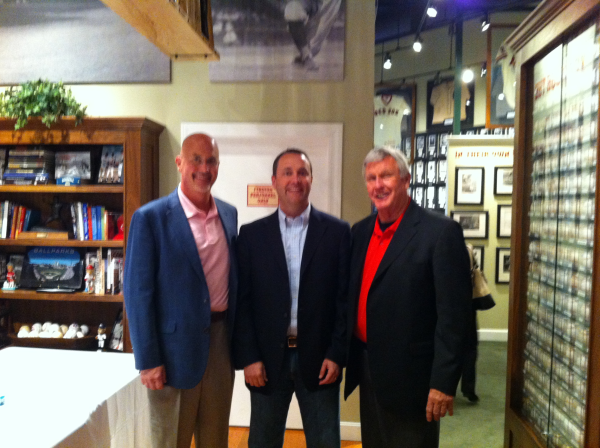 Beacon Orthopaedics & Sports Medicine, led by Dr. Tim Kremchek, sponsored an event held at the Green Diamond Gallery in Cincinnati and brought in Tommy John to speak. Mr. John was a Major League pitcher from 1963-1989, pitching for six different teams, but is probably thought of more as a Dodger or Yankee more than any other team affiliation. John posted multiple 20-win seasons, was a four-time All Star, and was a member of several playoff bound teams. He finished his career with 288 wins.
What's even more amazing about his career is the fact that, in the middle of his 26 years, he underwent experimental surgery to repair damaged ligament in his pitching arm, not knowing if he'd ever be able to pitch again. Mr. John told us yesterday that he first hurt his arm going from Little League pitching distances to Major League distance in his freshman year. That year he played first base and didn't pitch much. He continued to pitch with pain in his arm until he ultimately couldn't pitch any more and had the surgery.
This surgery was so successful that it has become very commonplace in baseball. In fact 1 out of 9 Major League pitchers will have the surgery. One in 9! This has extended the playing career of many great pitchers and even position players.
It was great to hear the stories behind the events that led to such a pivotal point in baseball from the man who lived through them personally and now has the surgery