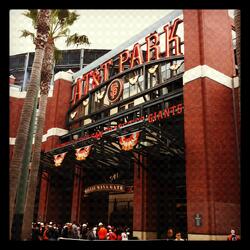 Atop most fans list of favorite baseball stadiums is San Francisco's AT&T Park. If it's not their favorite, it's almost always in their top five. And for good reason.
This ballpark is listed right in the middle of stadium sizes in the MLB, as the 16th largest. The way that the ballpark is configured makes it feel like one of the smallest, though. The feeling of intimacy at AT&T is one of its best features.
And speaking of features, this park is filled with plenty of unique features - the interesting angles and dimensions of the outfield, the view of the Bay, McCovey Cove, the Levi's mitt and Coca Cola bottle (with a slide in it) in the outfield, and the kids play area.
It's a great place to see a baseball game. They also offer one of the best stadium tours in the MLB if you can squeeze it in on your baseball trip.