The Mideast Tour officially begins on July 2nd in Toronto. And what better way to kick it off could there be than to have an appearance by former Major League player, Buck Martinez?
Buck's playing career spanned 17 seasons with three different teams, the Royals, Brewers and Blue Jays. Buck also managed the Blue Jays for two seasons and was the manager of the US team in the inaugural World Baseball Classic.
Buck currently serves as a broadcaster for the Toronto Blue Jays. He'll share stories with us about his path to the Majors, his playing and managing days, and what he sees in baseball today. We'll also get a sneak peek into the broadcast booth at Rogers Centre and what it takes to televise a baseball game.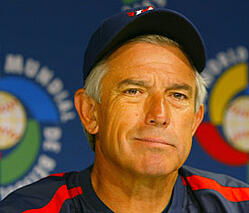 Guests are joining the group baseball tour from all across the U.S. for what lays out to be a great holiday weekend tour package:
Still planning a summer vacation? There's still time left to sign up for a baseball tour!! But hurry...the summer's going by fast!! Click here for details.