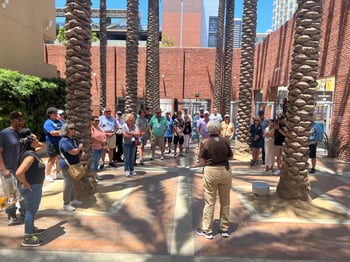 Ever dream of seeing every Major League Baseball stadium on the Pacific Coast? We sure have! The stadium experiences, post-card views and city adventures make our West Coast Tour a best-selling favorite.
We start in the heart of Seattle, where, along with Mariners baseball, fans experience The Space Needle, Pike Place, and the best coffee and donuts in the country!
In San Francisco, Oracle Park makes quite an impression, with its modern amenities and waterfront views. The delicious varietal fare makes this stadium a foodie favorite (get the Ghirardelli Sundae!!). We'll head across the Bay and catch an A's game at the Coliseum, too.
In beautiful San Diego, fans have a free day to enjoy coastal views, the Gas Lamp District and award-winning Southwest eateries before seeing the Padres at award-winning Petco Park.
Iconic Dodgers stadium is next on the bucket list, with its rich history and nostalgic, all-American feel. (Yankees and Dodgers…does it get better than this?) Next, fans enjoy a free day in scenic Anaheim. Some take a Disneyland adventure, while others enjoy food, shopping or unwinding on the beach. This tour wraps up at "Big A", Angel Stadium, where "dancing fountains" give the 4th oldest ballpark in the country a unique atmosphere of its own.

Our options make it easy. Choose this full West Coast Tour to see these 6 ballparks and cities, or pick one of our mini tours, like the Southern Cal, Bay Area, or California Gold.
West Coast May/June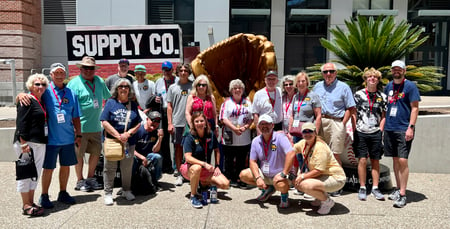 May 29 – Yankees @ Mariners
May 30 – Pirates @ Giants
May 31 – Braves @ A's
June 1 – Free Day
June 2 – Cubs @ Padres
June 3 – Free Day
June 4 – Yankees @ Dodgers
June 5 – Free Day
June 6 – Cubs @ Angels
About Big League Tours
Big League Tours helps fans get closer to the game by securing lower level seats, arranging stadium tours and player experiences, and providing first-class hotel accommodations. Flexible itineraries allow fans to experience the best of the best in the greatest baseball cities across the nation. Unlike other tour companies, Big League Tours not only takes care of the buses and games for a baseball tour, but also provides extras that turn tours into true sports vacations, loaded with unique baseball-related events. For more information, contact Big League Tours at www.bigleaguetours.com.