(INDIANAPOLIS—January 23, 2012)
-
Big League Tours
, the luxury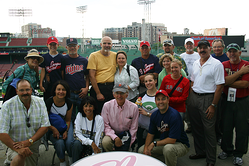 baseball travel company, is excited to announce its baseball vacation packages for the 2012 baseball season. Big League Tours helps fans get closer to the game by securing lower level seats, arranging stadium tours and player experiences, and providing first-class hotel accommodations. Flexible itineraries allow fans to experience the best of the best in the greatest baseball cities across the nation.
2012 season tours reach east to west beginning May 14
th
, and will run throughout the summer. This year's tours include:
Baseball fans interested in reserving spots for any of the baseball trips can call (866) 619-1748, email
info@bigleaguetours.com
, or visit
www.bigleaguetours.com
for package information and applications. Fans can also sign up online for special offers and trip updates and be the first to receive information about next season's baseball tours.
About Big League Tours
Big League Tours
was founded in 2006 by Glenn Dunlap to help fans of all ages experience baseball from a new perspective- from inside the game. Unlike other tours companies, Big League Tours not only takes care of the buses and games for a baseball tour, but also provides all the extras to turn tours into true sports vacations loaded with unique baseball-related events. For more information, contact Big League Tours at www.bigleaguetours.com.