A new baseball tour for 2014 is The Heartland Tour that features 5 of the most outstanding newer ballparks in the Major Leagues, along with a visit to historic Wrigley Field. Your tour starts on Tuesday with a downtown stay in Cleveland. Make sure to arrive early on the free day so you can check out the attractions like the Rock 'n Roll Hall of Fame. The Indians will host the Red Sox in an afternoon contest on Wednesday at Progressive Field.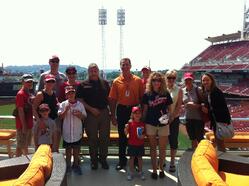 You will take off for Cincinnati on Thursday for a game at Great American Ball Park. It's a getaway day for the Giants, so we expect it to be an afternoon game. We'll stay in the heart of Cincy with lots to see and do in the evening. To the right are some of our guests on a stadium tour with Reds broadcaster, Chris Welsh. Notice that most of them are eating ice cream out of the freezer that belongs to Chris' fellow broadcaster, Jeff Brantley. (But if you see Cowboy, don't mention anything about the missing ice cream!!)
On Friday we'll head to Pittsburgh for a night game at PNC Park between the Brewers and the Pirates. Then on Saturday we'll make our way to Detroit to see the Tigers host the Red Sox at Comerica Park.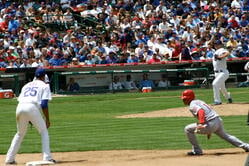 Then, two nights in Chicago (Sunday and Monday) at a 4-5 star hotel with games at both ballparks. On Sunday, we'll see the Marlins and Cubs at Wrigley Field for an afternoon game. You'll have the day to yourself on Monday to explore the city of Chicago before we take the short trip to the city's south side to see Sox Park.
You'll enjoy lower level seats at every game, great hotels in the city center or near the ballparks, a Big League Player Experience and all the Big League Tours extras.