Here's a baseball tour that promises to be great fun - see six baseball stadiums, watch tendifferent teams, stay in four different cities.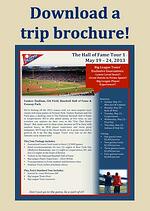 This baseball vacation package starts in Kansas City with a game at "The K", Kauffman Stadium, the site of the 2012 All Star Game. From there we'll make the short trip across Missouri to St. Louis for a game at Busch Stadium.
We'll hop a quick flight to Chicago where we'll setup for three nights. First, we'll see the White Sox at Sox Park and meet up with Sox Slugger, Ron Kittle. The next day we'll go up to Milwaukee to see the Phillies and Brewers at Miller Park and then head back to Chicago after the game. We'll wrap up our Chicago stay with a game at historic Wrigley Field.
Monday is reserved for traveling to Minneapolis. We'll fly there so that you'll be able to get settled at the hotel and then take in some local sites in the Twin Cities. Our final day will include a game at Target Field where the Twins host the Phillies for some Inter-league play.
So let's see. That means we'll be sampling barbeque, fried ravioli, Chicago-style pizza and dogs, brats and state fair food. Mmm, mmm... Can't wait!!
Here's a short video with more of the details of this tour. Download the brochure or Purchase This Tour now. We hope you'll join us!!