Time and again our guests tell us that the Big League Player Experience was the favorite part of their tour. That means a lot to us when we've also had great seats, stayed in great hotels, and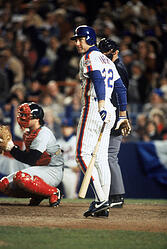 arranged special stadium access for our guests to say they like the player appearance the most. But we understand...that's why we include it!!
Our East Coast and Atlantic Beltway guests are soon to be treated to the experience, too. On Monday, June 30th, World Series MVP Ray Knight will join our guests at Nationals Park. He'll share stories, field questions, sign autographs and take pictures with our guests.
Ray's playing career spanned 13 years with the Reds, Mets, Astros, Tigers and Orioles. He twice made the All Star team and was the 1986 World Series MVP with the champion Mets. Knight also managed a couple of seasons in Cincinnati.
To learn about our upcoming 2014 Tours, click the link and check out the details. There's still time to join us this season, but you'll need to hurry!! Wish you were on these tours? We have another set coming up in August. Here are the links for those tours.