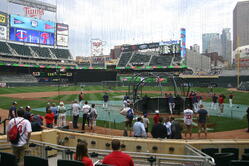 The Midwest is home to some fantastic baseball stadiums and this tour takes you to six of them! The tour starts in Minneapolis at Target Field, the home of the 2014 All Star Game. We'll take in a Friday night game when the Twins host the Rays. Make sure you try the kettle corn and some of the State Fair food that they offer at the ballpark. Truly unique!
Then we'll fly to Chicago on Saturday to settle in for a four-night stay in the heart of the Windy City. You'll have the evening on your own to explore the city. On Sunday, we'll go to Sox Park to see the Astros play the White Sox in an afternoon game.
Monday we'll take a short trip up to Miller Park where the Brewers are hosting the Reds. We'll get there in plenty of time for some tailgaiting at the ballpark and for you to explore the grounds. We'll head back to Chicago after the game.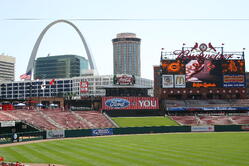 You'll have Tuesday to explore more of the city before we head out to Wrigley Field to see the Padres and the Cubs. Knowing the Cubs, this might be an afternoon game. Either way, it's always a great time at Clark & Addison!
The baseball tour will then head south to St. Louis on Wednesday, to see a game at Busch Stadium (pictured on the left). We'll then finish up our last day of the tour, Thursday, in Kansas City. We'll see the Royals host the Indians at Kauffman Stadium. (Yes, you'll be able to pick up some KC barbeque at the ballpark!)
You will stay in the finest hotels with easy access to all the attractions, sit in lower level seats for each game, and enjoy a Big League Player Experience. Don't miss out on this extensive tour.