The Southwest Tour is a new offering from us in 2014. We wanted to offer an early season baseball tour for those who wanted to get out early. In addition, we wanted to get to a few of these cities before it gets too hot to really enjoy them. So we'll kick off the season's tours in Phoenix.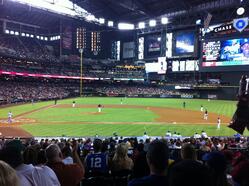 We'll stay in downtown Phoenix, within walking distance of Chase Field, where we'll see the Diamondbacks host the Mets for a game on April 15. Want some extra time in Phoenix? Come in early and play golf at one of the city's great courses, go horseback riding at one of the parks, and enjoy some of the city's fantastic dining and entertainment.
From Phoenix we'll fly to Dallas/Arlington to see the Mariners and Rangers play at Rangers Ballpark. We'll stay near the ballpark here, too, but not within walking distance. As long as the game time allows, we'll likely have a stadium tour of the Ballpark at Arlington. Make sure to get a bacon-wrapped hot dog and a Shiner Bock at the game to complete your experience!
On Thursday, we'll drive down to Houston. The game at Minute Maid Park is between the Royals and Astros. We expect it to be an afternoon game as it's a getaway game for both teams. So we'll (most likely) drive straight to the ballpark, catch the game, and then check-in at the hotel afterward.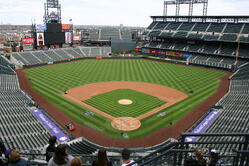 Then, on the last day, you'll fly to Denver to catch a game at Coors Field. This is the perfect way to finish off this trip. Downtown Denver, where we'll stay, has a lotto offer. The ballpark is located in the warehouse district with a ton of restaurants and brewpubs. By the way, it would also be a great place to extend the tour and stay an extra day or two. Let us know if you'd like to stay another night or two.
As always, you'll stay in first class hotels, sit in lower level seats, and enjoy a Big League Player Experience. Don't miss your chance to visit these stadiums on one great tour.