Great American Ball Park provides Reds fans and visitors one of the great baseball experiences in the game. Despite the Reds rich history (baseball's first ever team) this is not a nostalgic feel type venue. Those are reserved for stops at Fenway Park and Wrigley Field. And kudos goes out to those who planned this park for not trying to make it have that feel. What they did is give the city of Cincinnati an intimate setting to watch their beloved Redlegs.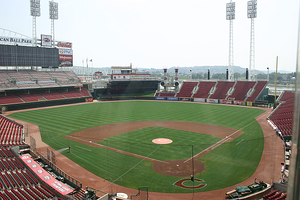 As a person who grew up in the area going to Riverfront Stadium and GABP, there are a few great ways to watch baseball here, even for a Cubs fan like me. I'll give you my favorite way to watch the game:
There are a number of seating options, including the ultra-premium "Diamond Club" seat section behind the batter's box. My favorite spot is the club area. They call it the "4192" club after Pete Rose's record-breaking hit mark. It's a great vantage point and I'm a fan of the elevated view and the club area goes up the first base line on the second level, right on top of the Reds dugout it seems. Inside it is comfortable with ice-cold Freon blowing and great food being served up. Some of which are Cincinnati favorites, LaRosa's Pizza and Montgomery Inn barbeque as well as a pasta bar and several other stations. One thing to be sure to get: a Big Red Smokey. A hot-dog on steroids. It's a smoked sausage that eats like a dog without quite the spice you get from a mett. There's also an option to get one infused with cheddar cheese; a superior hot-dog.
Be sure to keep an eye on the scoreboard located above the bleachers in left (the lower level bleachers in left field leave you with a blocked view of the scoreboard and an area I would avoid FYI) to see two things: the scoreboard stumper and the Mr. Red Race. The stumper is never too difficult and the Mr. Red Race is the tradition at a Reds game.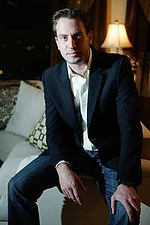 Lastly, you must go to the Reds Hall of Fame and Museum located just outside the front gate at GABP. This is widely considered the best Hall of Fame and Museum for a team in all of baseball. It features the largest collection of Reds collectibles, artifacts and memorabilia in the world. Two floors and 16,000 square feet of Reds heaven. It's a must for any baseball fan.
After you've taken it all in, finish it off with a sundae from United Dairy Farmers. Your Cincinnati visit is done.
Will Chambers is a local sportscaster and journalist covering Cincinnati and Northern Kentucky. His duties include feature sports columnist for Cincinnati Profile magazine and lead play-by-play announcer for Georgetown College, among others. He is a Cincinnati native who currently resides in Kentucky. You can check out his work at IHigh.com.