How Good Are the Tickets for the Games?
We get a lot of questions about the kind of tickets we purchase for our guests. That's an important question! "If you're going to go to Yankee Stadium, Fenway Park, or Wrigley Field for your first time, and maybe your only time, you want to have the best possible experience that you can, which typically includes great seats," says Big League Tours President & Founder, Glenn Dunlap.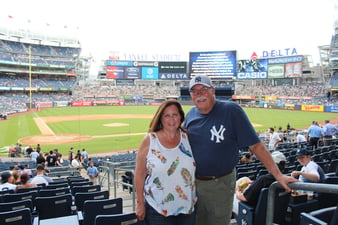 "When I saw that other tour groups put you in group seats in the upper deck clear out by the four poles, I knew there had to be a better way to do it. So we always include great seats for our guests."
We'll secure premium tickets for all the games on your tour, making the visits to the ballparks as enjoyable as possible. Tickets include lower level infield seats or club seats. Certain tours may feature reserved suites or party rooms. Traveling companions and families will be seated together, but not necessarily with the rest of the tour group.
One of our frequent travelers, John R. shared, "The seats you get on a tour from Big League Tours are really top notch. They are between first and third base, and always in the lower bowl."
We love to see the games from great seats, and we want our guests to have great seats as well! Join us for an Ultimate Baseball Road Trip where you'll be seated close to the action!