Our Southwest and Sunbelt Tours took us next to Arlington, Texas, home of Globe Life Ballpark and the Texas Rangers. Rangers Ballpark is known for the unique view of the offices in the outfield, where blending work and fun would be easy to do 81 days out of the year! (Come to think of it...why aren't our offices there???)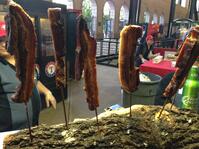 You've seen lots of pictures of ballparks, even Rangers Ballpark. But have you seen bacon on a stick? I didn't think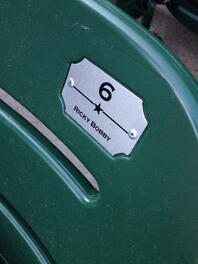 so... Well, now you have. I didn't know that could be done! If you're a meat lover, there are lots of great food selections at this stadium.
Looks like the seats in the lower levels are named by the season ticket holders (?). Reminded me of those terrible four-person "cells" or "cubicles" at Shea Stadium that were named and had metal rails around

them. However the names at this stadium were right on the seats themselves. Here's a shot of my seat. Seems like someone's a fan of Talledega Nights? I expected the seats on either side to be Walker and Texas Ranger...
We really enjoyed the game. It was close the whole night and the fans were really engaged. To top it off, we saw the Rangers put up a couple of runs in the bottom of the night, including a two-out, walk-off hit off of Fernando Rodney. (MLB Game Summary)
More about this combination of baseball tours to come!