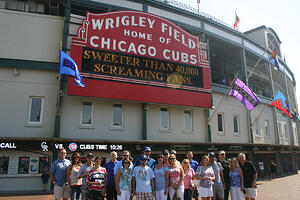 Yesterday, Major League Baseball released the team schedules for 2015. And now, our work begins creating the luxury baseball tour packages for the coming season.
As you can imagine, it takes some time to go through all 30 teams to design the most appealing tours for our guests. Our preliminary plans include full East & West Coast Tours plus, Midwest, Mideast, and Heartland Tours. In those tours, we will create shorter, "mini" tours like Atlantic Beltway and Southern California for folks that want a quick get away visiting multiple ballparks. We'll also go through the schedule to find the best destination tours for New York, Boston, Chicago, and San Francisco.
Keep an eye out for our 2015 Tour Announcement email. We will be sending it very soon. It will include links to all the 2015 tours, plus early bird discounts for guests that purchase their tours before the end of the year.
We are excited about the upcoming season and hope you will join us on the road in 2015. Please call or email with any questions. (317) 806-2272