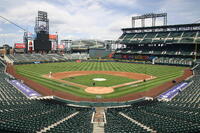 We are offering new discounts on two of our early season tours. Book by Dec. 31 and get $100 off per person on our Southwest and Sunbelt Tours. Both tours will give you the chance to escape the cold weather and catch games under the warmth of the spring sunshine. Links to both tours are below. Use discount code SPRING when booking your tour.
Our $150 off per person on our 7-8 night tours continues through Dec. 31 as well. Use code HOLIDAY to get your discount. Here's a link to our blog that has all the info on this promotion. BIG LEAGUE TOURS HOLIDAY PROMOTION
* Not valid with any other offer or discount. Discount is only available on the tours listed above. No prior sales. Offer ends Dec. 31, 2013.