Our touring season kicked off in April with our Southwest and Sunbelt Tours. Although different in a few ways, the tour itineraries overlapped in Dallas and Houston. The Southwest Tour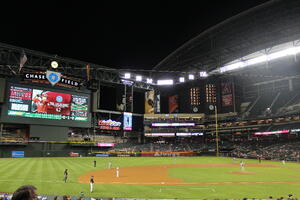 included Phoenix, Dallas (Arlington), Houston and Denver while the Sunbelt Tour included Dallas (Arlington), Houston, Miami, Tampa and Atlanta. We had guests from California, New York, and states in between.
One reason we planned this tour so early in the season was to beat the heat, hoping to see the roofs open in the domed stadiums. We had pretty good luck all across our tour. We had a beautiful night in Phoenix at Chase Field. The night didn't go so well for Bronson Arroyo and the Diamondbacks, but our fans had a great time, nonetheless. (MLB Game Summary)
We've hosted tours in Phoenix at different times in the baseball season. When it's 110 degrees, you're thankful for the roof and air conditioning. But we love to see baseball outdoors, don't you? We enjoyed being at Chase Field with the roof open. It was a much better experience. We highly recommend going early or late in the season in hopes of seeing the roof open.