April 6, 2008 - Yesterday we took the stadium tour of Coors Field. It's a great ballpark with a lot of interesting features. Since it was a game day, we started the tour on the field which is usually the last stop. Here's our group and guide just outside the Rockies dugout.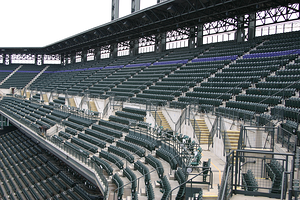 We then went up to the top of the stadium to work our way down. In the upper deck, the stadium has a row of purple seats that are located exactly at 5,280 feet. I like the that the seats are one color. The days of marking sections with different colored seats were awful. One row of purple seats seems appropriate.
Another interesting stop was in the press box. These guys not only have one of the best jobs in the world, but they also get the best seats in the house. Our guide pointed out that a fresh hole in the wall had been made from a Garrett Atkins foul ball during the Friday season home opener. It was marked with the date and his name so that they could remember all of them by the end of the season.
The guides were great and allowed us to take our time for many pictures and questions. We've been on many tours where they herd you through the park at break-neck speeds without your chance to really enjoy the moment.