April 6, 2008 - When we got up Friday morning, you could sense the excitement building throughout the city. We wanted to get in the mix of things as early as we could so we headed down to 16th street to grab an early lunch amidst all of the restaurants and shops. You could hear live music all over town. News trucks were setup capturing footage of fans in the city. It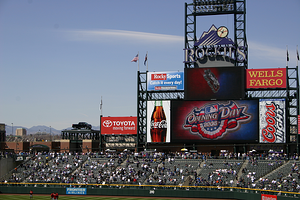 seemed as though everyone was heading to the game.
There's a section of Denver near Coors Field that is called the Lower Downtown (or LoDo). This part of town used to be warehouses and factories. But with the development around the stadium, it's now restaurants, bars, condos, and office space. Needless to say, this section of town was hopping.
I fully expected this Opening Day to be high energy, higher than most since the team is celebrating its National League Championship. The ceremonies contained the typical player introductions, flag presentation, balloon release and military flyover. The NL Championship trophy was unveiled on the first base line but the pennant wasn't raised. That element seemed unceremonious to me. Then again, maybe I had built it up to be something that it wasn't supposed to be.
Coors Field did live up to its expectations, however. We sat behind the Rockies dugout and really enjoyed the view of the game. One thing that we noticed is how friendly the Rockies fans are. Everyone around us was very talkative and much to share about the city and their team.
Unfortunately, the Rockies' home opener was spoiled by the Diamondbacks. Micah Owings had a great outing. It seemed like he kept the Rockies off-balance for most of the game. The only real mistake he made was the home run that he gave up to Todd Helton. The game ended 8-1 in favor of the Diamondbacks.
Today we're off for a baseball stadium tour to see all the behind the scenes elements of the ballpark. Tonight's game is set to feature Jeff Francis for the Rockies and Brandon Webb for the Diamondbacks. Should be exciting. Then again...a day at the ballpark is always better than sorting out an inbox...