MLB Tour Wrap Up
April 8, 2008 - The last event of our tour was on Saturday night when we took in the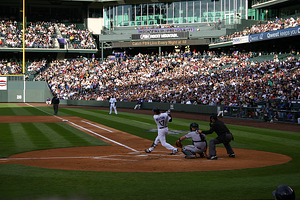 Diamondbacks and Rockies game at 6PM. We had incredible seats that were located three rows behind the Diamondbacks dugout. (This picture was taken from our seats as Todd Helton belted a home run into the right field seats.) The game was really close for a few innings but the Diamondbacks ultimately poured on the runs and put the game out of reach.

This was a fantastic baseball road trip. If anyone is planning a sports vacation or is specifically looking for a sports package that is a great fit for a family tour, Denver is a fantastic place to go. The city is crazy about its teams, has many things to offer the non-sports fans, offers a moderate climate all year round, and is filled with friendly folks everywhere you go. Transportation is easy to manage, whether you are driving or relying on public transportation. And the city is the micro-brew capital of the world!

This is one trip that we'll definitely offer every year. We can't wait to go back!