Manny Thanks!
April 8, 2008 - While we were taking the escorted tour of Coors Field, we had an unexpected thing happen. As we passed by the doors that led to the Rockies' clubhouse, we ran into Manny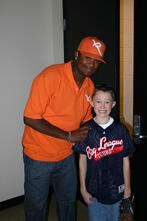 Corpas. Manny is the closer who had a phenomenal run at the end of last year.
Manny motioned for my son, Hiatt, to follow him into the clubhouse area and then gave him a personal tour of the clubhouse, the weight room, training room and cafeteria. The tour guides told us that this never happens which made it all the more special for Hiatt. Can you imagine being 10 years old and getting a personal tour from an MLB player? I would have been as excited at 40!
We've taken many baseball stadium tours but this one will stand out in our memories for a long time...Our thanks to Manny for going out of his way to make that stadium tour special for a young baseball fan. You instantly made him a Rockies fan and a personal fan for life. Thanks so much!!!