While I don't mind sitting around and taking it easy at the beginning of each new year in front of the television watching more than a dozen football games, I must say, I prefer to be watching 9 innings of baseball. Many argue with me that football provides a more exciting and thrilling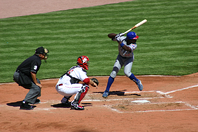 product. Perhaps that is true in their minds, and perhaps there is some truth to the fact that I have a far too simplistic mind that just flat doesn't enjoy time clocks. Yet maybe it has something to do with the fact that I'm okay with baseball being a less physical sport, but a dramatically neat game (as in tidy). I'm not sure. All I know is that I love the game of baseball and cannot wait for the new season to begin.
So while the NHL plays its Winter Classic in a baseball stadium today, college football continues to crown bowl victors, NFL teams prepare for the playoffs or talk strategy for future draft picks, and while my own hometown counts down the days until she will host her very first Super Bowl, I will continue to count down the days until Opening Day for Major League Baseball.
After today, my countdown will end in ninety-four days when my Cincinnati Reds take on the Florida Marlins on April 5, 2012 following a bunch of Opening Day ceremonies. How about you? How long do you have to wait until your team takes the field?