I had the privilege of attending an event at the Green Diamond Gallery in Cincinnati. I have had several Cincy locals tell me that I needed to get up there but just hadn't had the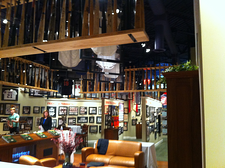 opportunity to do so. Boy, were they right!
Here's how their website describes the gallery:
"The Green Diamond Gallery houses a breathtaking array of high-end baseball memorabilia dating back to the late 1800s.
• Marvel at the Hall of Fame Wall with photos and autographs of almost every inducted Hall of Fame member.
• Travel back to the founding of the Cincinnati Reds, re-live the team's World Championships, and get information about our hometown's greatest ball players through an incredible Reds Timeline.
• Gaze at hundreds of autographed and mounted baseballs from greats like Mantle, Ruth, Morgan and Bench.
• Browse vintage and current baseball books and magazines in our Library.
In addition, you'll find:
• Hundreds of game-used baseball bats
• Game-worn jerseys, including jerseys from defunct teams and Hall of Famers
• Seats from stadiums old and new
• One-of-a-kind documents dating back to the 19th century
• Thousands of historical photographs depicting the greats of the game
• Signatures and photos from some of the most talked-about scandals in baseball, including Shoeless Joe Jackson and the 1919 Black Sox
• And much, much more!"
Much more is right. What kept running through my mind while I was there was that the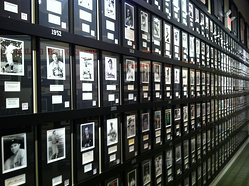 gallery felt like Cooperstown had been brought to the best "man cave" ever conceived. It's hard to fathom the depth of the private collection. For instance, check out the picture to the left.
The wall is covered with photos of every Hall of Famer arranged by the year they were admitted to Cooperstown, and most have their autograph included, too. How incredibly amazing is that??
So for all of you who ever suggested that I should make a special trip to the Green Diamond Gallery, I now know that you weren't exaggerating a bit. And for those of you who haven't been, you'll now have to listen to me encourage you to get there as soon as you can. It's a great experience. In fact, one that we hope to incorporate on our trips through Cincinnati!!