Cincinnati native and long-time standout for the Reds, Barry Larkin received the fateful call from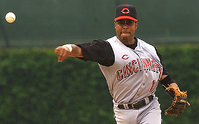 the National Baseball Hall of Fame yesterday as he will be inducted into the Hall in 2012. MLB.com writer, Mark Sheldon, listed Barry's accomplishments in his article, "Hall of Fame Rolls Out Red Carpet for Larkin."
Larkin played 19 seasons -- all with the Reds -- from 1986-2004. He had a lifetime average of .295 with 198 home runs, 960 RBIs, 2,340 hits, a .371 on-base percentage and 379 stolen bases. He was also a 12-time All-Star, a three-time Gold Glove winner, a nine-time Silver Slugger winner, a member of the 1990 World Series championship team and the 1995 National League Most Valuable Player.
In 1996, Larkin became the first shortstop in Major League history to be a 30-30 player when he had 33 homers and 36 steals during that season. Outside of the numbers, Larkin was also considered a man with intangibles and leadership. He was honored with the role of team captain in 1997.
Congratulations to Larkin for the recognition that he's receiving for his amazing career!
Want to visit the Hall of Fame in Cooperstown, New York? Join us on one of our Hall of Fame Tours or our full East Coast Tour. Each of them include stops in the little village credited as the birthplace of baseball.