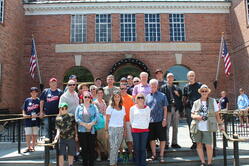 At the end of every season, we send a customer survey to all of our guests. Our goal is to make our tours the finest of any baseball tours, and the 2014 survey results seem to say that we are doing so. We are extremely gratified to know that 100% of our guests who responded were Very Satisfied or Satisfied with their game seats, accommodations, transportation, and the Big League Player Experience. Also, 92% said they would definitely travel with Big League Tours again.
If you are considering traveling with us in 2015, please take a look at the comments from our survey. I hope it will help you understand what we're all about.
"This was a very enjoyable experience. All aspects of the tour were very well run. Very professional and first class!"
"For anyone wondering if this is for real, believe me, it is. I was a little worried when everything was transacted over the Internet. Don't let that fool or frighten you. This is a classy act and you'll have a wonderful experience. All of this with people who love the game just like you do."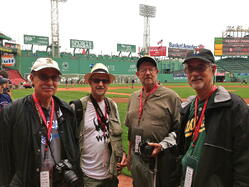 "Can't say enough about these guys. Very professional and also very personal. They were so helpful and offered as much or as little assistance as needed. Never in your face but always available as hosts. Great hosts, perfect tour."
"Great seats for all of the games.....first time to all of these parks...the ONLY way to go!"
"WE WERE VERY PLEASED WITH OUR SEATS. The boys truly enjoyed being able to get up close and personal with the players and had some great opportunities of getting foul balls."
"The entire tour was well organized and awesome! Thank you so much for your hard work, we had an amazing time!!"
"I am not a baseball fan, I was simply accompanying my daughter on her trip. I had absolutely the best time and thoroughly enjoyed all the games. Great seats....especially in San Francisco."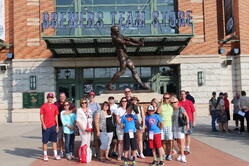 "Beautiful accommodations in lovely hotels. Clean, excellent service, high end names and quality. The tour was worth every penny I spent. It was a graduation gift for my son. Thank you for making it a very special experience."
"This trip completely exceeded our expectations. Great host & trip."
"Trip of a lifetime."
"The hotels were always four or five star. The locations were terrific to either walk to the games, or see the sights in your off time."
"This is really a class act. I definitely will travel with them again until I've been to every park in both leagues!"
"Would enjoy this again. All was well planned. I didn't have to think; just enjoy!"
Please call (866) 619-1748 or email doug@bigleaguetours.com with any questions. We will have our 2015 tour schedule available very soon.