We have had a great response to all of our 2012 baseball vacation packages. In particular, our Chicago/Milwaukee and Midwest Tour 1 packages are filling up fast.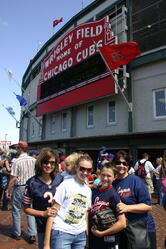 As you probably understand, our tours aren't like other baseball tours. We provide lower level seats, first class hotels, sensible itineraries, and an MLB player experience. In order to do all those things, we have to keep our groups small. If you are interested in joining us on any of our 2012 tours (especially the Midwest 1 or Chicago/Milwaukee), please book early, so you don't miss out.

Our Midwest Tour 1 will start in Minneapolis with the Twins hosting the Royals at Target Field. The next day, our guests will fly to Chicago where they will settle into our downtown hotel for 4 nights. (We're not cramming a bus full and driving 7+ hours like other tours might.) From there, we'll head out to Wrigley Field for a Cubs game. Then take a trip to Milwaukee's Miller Park to see the Brewers the next day returning to Chicago after the game. And, on our last Chicago day, visit US Cellular Field to catch the White Sox. The next morning we'll fly to St. Louis for a game on July 4 at Busch Stadium and spend the evening in the Gateway City.
The shorter version of the Midwest Tour 1 is the Chicago/Milwaukee Tour. Our guests will come into Chicago on June 30 and stay for 4 nights. While there, they will join up with our Midwest Tour 1 group and visit Wrigley Field, Miller Park and US Cellular Field.

Let us know if you would like to book either of these tours. Or, you can click this link to reserve your spot: Purchase a Big League Tour