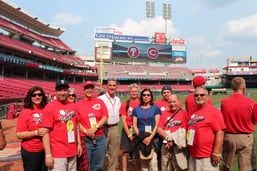 OK, I know... the official Opening Day was Sunday. But, for a Reds fan like me who remembers the long standing tradition of MLB's oldest franchise playing the first game of the season, Monday was my Opening Day. Go Reds!!
I'll be watching all the games this week recalling the many guests we've hosted at the 30 ballparks. Glenn Dunlap and I are also looking forward to making new friends on the road in 2016 as we celebrate our 10th Anniversary Season. Glenn will be hosting our first tour of the season- The Southern Swing. Then, our tour season ramps up with East Coast and Mideast Tours in May, and a full slate of East, West, Midwest, and Mideast tours running through September.
I hope you will join us this year. You'll have premium seats for all the games, stay in first class hotels in the hearts of the city or near the ballparks, enjoy our Big League Player Experience, go on behind the scenes stadium tours, and much more. Click the links below to see all the tours for 2016 and book your baseball vacation.
Please feel free to call or email with any questions.