I've had in mind this idea of featuring players or teams that have a great week on the road, largely because I think the tie-in to baseball road trips that we offer is pretty cool. But if you've traveled for a week or two, you know how easy it is to get off your rhythm. Imagine doing that for six months and being expected to perform at your best. So here's our first Road Trip of the Week!
Rangers: The Rangers were absolutely on fire this week. They won eight games in a row on the road at Target Field, Fenway Park, and Comerica Park until finally losing to Detroit in the second game of their double header on Saturday.
Philip Humber: Doesn't get any better than perfect! This week Philip Humber became only the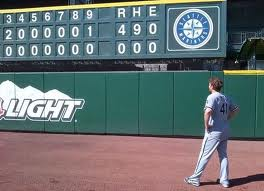 21st pitcher to toss a perfect game. His perfecto came on the road while pitching at Safeco Field against the Mariners. Very classy ovation from the Mariners fans, too. (Incidentally, we had a group tour at US Cellular Field in 2009 when Mark Beurhle pitched his perfect game. What an amazing thing to witness!)
Reds 10,000th win: Dating all the way back to their membership in the American Association, the Reds closed out their 10,000th franchise victory while at Wrigley Field joining the Giants, Cubs, Dodgers, Cardinals and Braves at achieving this milestone.
Congratulations to the players and teams featured this week. Since 2006, BLT has provided the ultimate baseball tours to fans who want to truly get inside the game by providing great seats, player appearances, behind-the-scenes stadium tours, special stadium access, and great travel accommodations. Plan your next baseball vacation with Big League Tours, the team that knows a great Road Trip!!