Rain Out At Shea
May 9, 2008 - Today the inevitable happened. When your business revolves around outdoor sporting events, you know that at some point you're going to get wet and that at some point you're going to have games canceled or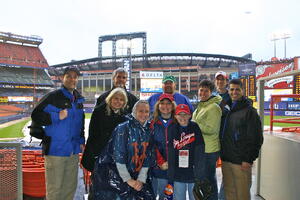 postponed. That day finally arrived. After dodging rain outs all across America for a couple of years, we suffered our first one at Shea Stadium. All wasn't lost, though.
Part of the attraction of MLB road trips is to see the stadiums. While it was raining most of the time we were there, we were still able to walk around and see quite a bit of the stadium. In fact, it was quite nice. Most of the fans stayed away from Shea so we were able to check it out without fighting a large crowd. We essentially turned the time into our own baseball stadium tour. In addition, you could clearly see the new stadium, Citi Field, from inside the old ballpark. Here are some of the folks from our group. That's Citi Field in the background.
About half of the guests on our package tour were staying an extra night in New York City and were able to return to Shea to see the game (and it was a gorgeous day!). Unfortunately for me, I wasn't one of those lucky enough to see the game...
In my opinion, seeing Shea Stadium isn't worth a trip on it's own. If you are going as part of a baseball vacation package or baseball road trip of your own that includes other baseball stadiums, then it's worth making a stop. If nothing else, it will give you a greater appreciation for the new stadiums that are built with the fans in mind.