May 9, 2008 - One of the things that we love to share with our travelers is the cool stuff, things that you hope for on a baseball vacation but aren't always guaranteed. That's why we plan baseball stadium tours whenever we can. That's why we bring in MLB players to meet with our travelers. That's also why we go early to the games - to give everyone a chance to really see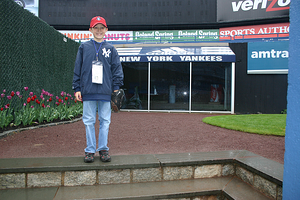 and experience the stadiums and get closer to the players.
Here's a picture from the stadium tour that we took this morning at Yankee Stadium. This is my son standing in the Yankees' bullpen. Several in our group have received autographs from players and coaches at the ballpark and in our hotel. I was even lucky enough last night to catch a ball in batting practice.

If you are considering a baseball road trip or any kind of sports travel package, consider what kind of extras that they are going to provide. Also, consider whether or not you are getting the "cool stuff" that you wouldn't be able to get on your own.