Year in, year out, the Mideast Tour gets rave reviews from Big League Tours' guests. It actually kind of surprises most travelers. While it doesn't contain an older, iconic stadium like Fenway or Wrigley, it has some great stadiums and cities that our guests always enjoy.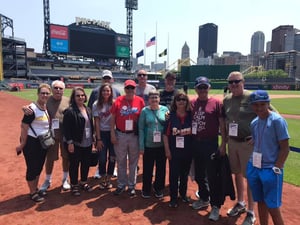 The obvious choice for most baseball fans is PNC Park in Pittsburgh (group tour on field to the right). It's next to the river and has a view of the city's bridges and skyline in the background. It also has the Primanti Brothers sandwiches and Yuengling beer, which will make any ball game better!
As Reds fans, (hey, there's always next year…) we're likely not completely impartial, but we happen to love Great American Ball Park. The concourses are wide open and provide a site line of the field as you move around the park. Don't forget to get some Graeter's ice cream. Black raspberry chocolate chip always hits the spot.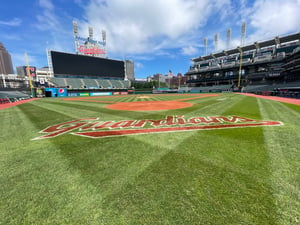 Cleveland is home of Progressive Field (pic on the left from our stadium tour), the Rock n Roll Hall of Fame, and a growing food scene. Comerica Park is a really nice ballpark and one of the few places to get a fried bologna sandwich (that's a positive, right…?).
And Toronto. Oh my goodness…have you been to Toronto? We love going there! It's really cosmopolitan and has so much to offer.
So, jump on the Mideast Tour this year. You'll enjoy the cities, stadiums, food, and more!
About Big League Tours
Big League Tours helps fans get closer to the game by securing lower level seats, arranging stadium tours and player experiences, and providing first-class hotel accommodations. Flexible itineraries allow fans to experience the best of the best in the greatest baseball cities across the nation. Unlike other tour companies, Big League Tours not only takes care of the buses and games for a baseball tour, but also provides extras that turn tours into true sports vacations, loaded with unique baseball-related events. For more information, contact Big League Tours at www.bigleaguetours.com.