Looking for a way to ditch your cubicle and get outside for a day? One of the best parts of our job is working with companies who enjoying spoiling their employees with some staff bonding and baseball! Lucky for Indy companies, their location is perfect for a weekday getaway to Chicago or Cincinnati.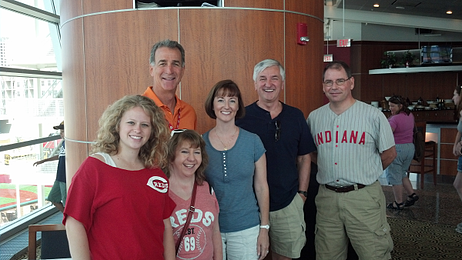 This month we hit the road with Service Concepts who awarded more than 30 employees from around the state a day outing to see the Cincinnati Reds. I don't know many people who can classify jumping on a bus, having an unlimited lunch buffet and watching a MLB game as a bad day at work!
Here's what Mandy K. had to say about the event:
"Attending a Cincinnati Reds game with my coworkers was so much fun! Big League Tours made the day so enjoyable. All we had to do was get on the bus, sit back and relax! Everything was wonderful — from the coach bus ride there, to the unlimited buffet lunch and the special meet-and-greet with former Reds player Chris Welsh, who now announces games for the team. The day was well planned, and it was a great way to spend time with coworkers outside of the office. The stadium was awesome, with a beautiful location overlooking the Ohio River. I can only hope our company will consider taking another Big League Tours trip in the near future!"
Sharing the day with Mandy was also special for me; we went to a high school with less than 250 students TOTAL and hadn't seen each other for more than four years! Words can't describe my surprise when I stepped on the bus and heard "GO JUGROX" from the back of the bus. Wondering what the Jugrox are? You'll have to find that one out on your own.
High school reunions aren't guaranteed on future trips but everyone here at Big League Tours can guarantee your company outing will be just as successful as this one!
Interested in planning an outing for your sales team or management staff? Now's the time to start planning for next year. To set up a company outing for your crew, email me at kayla@bigleaguetours.com for more details.