For the first time, Big League Tours is offering 3 different versions of our West Coast Tours. You, our fans, asked for more West
Coast options and we obliged with our full West Coast- Touch 'em All Out West Tour; the Baseball on the Bay Tour; and the Southern California Tour. At every stop, we'll be staying in first class hotels, sitting in great lower level seats, and doing it up the Big League Tours way.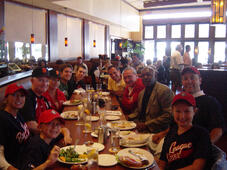 Each tour features
our exclusive Big League Tours Player Experience where our guests get to interact with a former major leaguer. Check out this video to learn more about
our Player Experience-

Big League Player Experience Video

.
Also for the first time, we've added in-tour flights. We want to make sure our guests spend more time enjoying the great cities we visit and not spend countless hours on a bus like they would with
other baseball tour companies. So, we're flying from Seattle to San Fran, San Fran to LA, and San Diego to Phoenix. It's all included in the tour price and we'll take care of the details. Check out our videos about Sensible Itineraries and Tour Flexibility by clicking these links-

Sensible Itineraries Video

Tour Flexibility Video
Want to see all the details or download a brochure for our West Coast tours? Just click on the tour page links below:
Full West Coast Tour- Touch 'em All Out West
Baseball on the Bay Tour
Southern California Tour