Can I brag on my home town just a little? We've been hearing about the 2012 Super Bowl in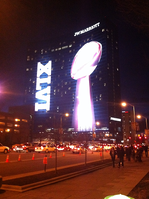 Indy for quite a few years. But it's finally here and it has been absolutely amazing!
Indianapolis is known for hosting events and doing so very well. After all, this is a favored spot for the NCAA mens and womens basketball tournaments - whether opening rounds or the Final Four. The Big Ten Conference has held both basketball and football championships here. In addition, the city is home to or has hosted world renowned sporting events (Indy 500, Brickyard 400, PanAm games, and Olympic qualifications, to name a few), conferences and conventions and handles them all with ease.
But nothing in the city has compared to what they've done for the Super Bowl. Several square blocks have been closed to auto traffic to create the Super Bowl Village. Stages have been setup along the streets.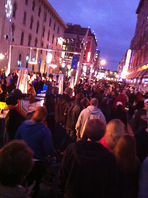 Restaurants have extended their seating onto the sidewalks. Vendors are all over the city. And the activity is amazing.
Here are a couple of photos from downtown. The first is the image of the Lombardi Trophy on the side of the brand new JW Marriott hotel. The second was taken while walking around the Super Bowl Village.
The city and visitors have been blessed with fantastic weather this week. It's been in the high-50's most days making it very comfortable to be out and walk around. Hopefully things will continue to hold through this weekend so that the world will see Indy at its finest.
Congrats to the City, the Super Bowl Committee, and the thousands of volunteers who have made this all happen!