Final Game of Our Six Game Baseball Travel Tour
June 24, 2008 - As we headed into Fenway for the final game of our baseball road trip, I thought it was fitting that we started the tour in Baltimore with one of the finest, if not the finest, retro parks in the league and then we wrapped up the tour in Boston at the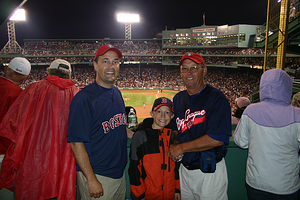 league's oldest baseball stadium.
It's interesting to see the contrast at this park with only 35,000 or so fans in the seats versus most other stadiums that seat 40,000 - 55,000+ fans. You are so close to the action here regardless of where your seat is. The only thing you have to be concerned with is an obstructed view. We've found the best way to avoid that is to sit low enough that the only thing that could possibly block your view is the batter in the on deck circle!
The other option for seating that guarantees an unobstructed view is on the Green Monster. I have to admit that before I was ever in Fenway or had ventured to the top of the Monstah, I couldn't imagine anyone wanting to sit up there for a game. However, I can honestly say that it's a fantastic place to watch a game. Since the wall is so shallow, you feel like you are the left fielder for the whole game. It's incredible. I would highly recommend getting seats up there at least once in your life.