May 9, 2008 - We began the day with an escorted tour of Yankee Stadium. There was a steady rain this morning but we didn't mind as we were able to take in some great sites around the park. The stadium tour began in the press box. Absolutely a great view of the park from there.
We then walked out to Monument Park to see the plaques of the retired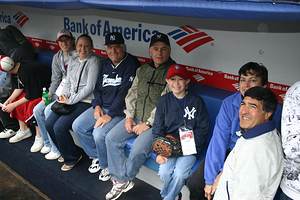 numbers and the monuments of the Yankees' greatest players. Several people in our group had never been in Monument Park before. It's something that everyone should experience, whether you are a Yankee fan or not.
We then walked around the warning track to the Yankees' dugout. It's a great place to sit and dream of what it's like to be a big league player. We took several pictures in the dugout, including the one on the right. Here are a handful of our travelers on the tour.
We then had the privilege of going into the Yankees' clubhouse. It was great to see where they hang out while at the park. It's smaller than many of the new clubhouses (but I'm sure that will change next year!). That said, it was still a religious experience for many in our group tour. It even brought tears to the eyes of at least one traveler!
We're hooking up with Art Shamsky, member of the Miracle Mets, in a little bit and then heading out to Shea Stadium to (hopefully) catch the Mets and the Reds (we're hopeful because it has been raining all day...).