One of the best parts of hosting baseball tours is getting to celebrate with guests visiting their 30th stadium. This past summer, Joe J. and Mellony C. got to mark visiting all 30 MLB stadiums off their bucket list. Joe shared stories from traveling with Big League Tours.
"When I was 14 years old I went to my first pro baseball game in Seattle. I remember the excitement of the crowd, doing the wave, the cheering and the smell of all the food. That game was a luxury for me since I lived 3 hours away and never really made it to the city. Back then I made it a goal, call it a bucket list item, to one day visit every MLB team and live that same experience at every stadium.
A little over 30 years later I finally decided to pursue my dream. Living on the West Coast and knowing California pretty well, my wife Mellony and I planned a trip starting in San Diego. It was quite a bit of work planning out all the details. What hotel to stay, routes to take, trying to coordinate game times with rush hour traffic. Parking was often a chore not being familiar with area layouts. Tickets… Some stadiums we had to settle for what we could get which was sometimes far from the action. While it was fun, it was also more of a chore than chasing a dream.
The next season I was looking over team schedules and how to visit a few different stadiums in areas I have no idea how I'm going to get to, where to stay, etc. I ran into the Big League Tours website during my searches. At first I thought it was a good idea, but then thought I could just keep doing the scheduling myself. A few days later along with more frustration I was back to the Big League Tour website with a little different thought process. Mellony and I talked it over and thought let's give it a try just to see how it goes and if it was worth it.
The tour we chose started in Cleveland. The itinerary stated to meet in the hotel lobby at a certain time to meet the tour guide and the rest of the group. At the meeting we were given our tickets for the game that evening and told to head over at our own convenience anytime when the gates opened. The hotel was about half a block from the stadium which gave us plenty of time to explore all around. Our seats were right behind the dugout on the first base side. Everything about the first day went great and without a hitch.
The next morning we met up again in the lobby and boarded a nice coach to head to Pittsburgh. There might have been about 15 of us so there was plenty of room which made for a very comfortable ride of just a few hours. We arrived in Pittsburgh and found our hotel was about 100 yards from the stadium. We had our tickets in hand and had most of the day to explore the downtown area. Again, our seats were prime and we had that fantastic view of the city skyline and bridges which made PNC park my favorite stadium.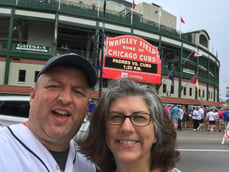 Our next visit was Cincinnati, then up to Detroit and lastly Chicago to watch the Cubs atWrigley. In Chicago, we stayed right downtown and had an extra day to just explore. I can't explain how fun that was. Since we were downtown we couldn't just walk to the game, our guide explained how the L train worked and as a group we all made it as if we took the L train for years.
That entire trip was very fun and headache free. You just show up to the first hotel and the rest is in their hands. We agreed to try another tour the next season.
My wife and I have now taken 5 tours with Big League Tours and visited 21 stadiums over the past 5 years (not counting the no-fans pandemic year).
In each city we stayed right next to the stadium or had transportation provided to and from the stadium. If I said the seats were great, that would be an understatement. At sold out Fenway, we sat about 10 rows directly behind home plate. Same with a packed Yankee stadium. On the really hot days we would have seats in the terrace level where the A/C was on right behind us.
Just the fact of not having to do all the planning and coordinating on these tours was more than worth it. Were there issues? Of course something always seems to come up now and then, but they were handled in a very timely manner and soon to be forgotten about. That's what's great about having a tour guide.
Our last tour was probably our most anticipated (at least for me). It started in St. Louis. If there was ever a baseball town it's got to be St. Louis. We took a tour of Busch Stadium and got to see some great areas of the park. The game was one of the best times I've had at a ballpark.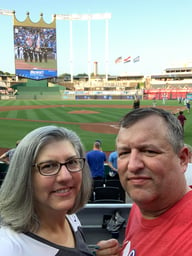 The next day we were at Kansas City. We sat in the Diamond Club and just a couple rows back from home plate. You couldn't ask for better seats…..except…. We took a break from the heat (it was 97 with heat index of over 105) and stood at one of the 'standing tables' behind the last row in our section. We were invited by a Diamond Club hostess to fill one of her tables that remained empty just a few rows in front of where we stood. Of course we couldn't pass that up. She later told us whose table we were sitting at. It was the Owner of the Royals table. He would sit there when not in his suite. WOW!! Just wow. What an experience.

Last stop was to see the Twins. A quick flight and we were able to finally reach our goal of visiting all 30 stadiums with a visit to Minnesota in Aug, 2021.
The dream became a reality and the reality seemed like a dream.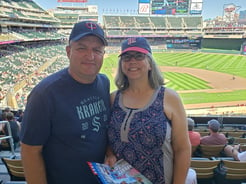 Thank you Big League Tours."
It's an honor to be a part of our guests completing such a great accomplishment.Congratulations to Joe and Mellony! It's been a joy to be along side you on this journey.