At Big League Tours, we're honored to be a part of our guests accomplishing a major goal. Just last month, Larry and Robin B. completed their "quest" of visiting all 30 MLB stadiums! Check out what they had to say about their experience here: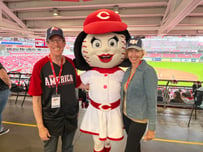 "We had been working on our quest to visit all 30 MLB stadiums for a few years. We decided the best way to see the Mideast stadiums was on a tour. We seriously looked at two companies and decided to go with Big League Tours. We went on the Mideast Tour in June 2022.
It was so nice to just show up in Cincinnati and have everything taken care of! We stayed in nice hotels within walking distance of all the stadiums. Our seats were all field level behind home plate! Our tour host, Nathan, was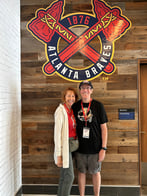 friendly, patient, calm, and, organized. This tour really spoiled us going forward attending games!
When it came time to visit the Southeast stadiums, we decided once again to go with Big League Tours in May 2023. Once again, Nathan was our tour host and we had a flawless experience! (We even won Nathan's baseball trivia contest!)
On both tours we enjoyed meeting and talking baseball with other fans.
We completed our Quest in September 2023 at Citizens Bank Park in Philadelphia.
We so enjoyed our trips with Big League Tours, we have signed up for what we are calling our 'Extra Innings Tour' to New York, Boston, and Cooperstown in May 2024. Big League Tours was a fun and important part of our Quest!"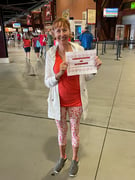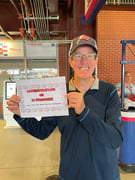 Larry and Robin, thank you for letting us be apart of your baseball adventure! It's our pleasure to meet folks like you and help make your dreams a reality. Congratulations!