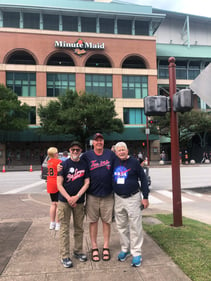 If we have been connected for any time, you've likely been on a tour with John R. or you have seen some photos with him on our site. John has been a continued guest on Big League Tours for many years. We caught up with him after our touring season where he shared some things about the tours he took in 2021.

John joined both the Southwest and the East Coast Tours this year. This wasn't John's first East Coast Tour. He shared, "I must admit, I've taken the Eastern tour at least three times, twice going to the site of the Hall of Fame. I love it because you get to see some of the original storied franchises, as well as the Nationals and the Mets."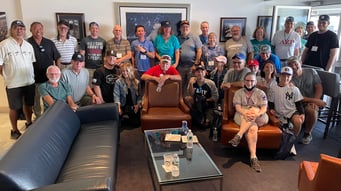 John also recounted his time visiting Yankee Stadium in August, where Big League Tours had secured a suite for our guests. "I've never been in a suite before, especially one at Yankee Stadium, between home plate and first base. They bring you all the food you can eat, included in the price of the tickets. Now I don't expect to get this opportunity again, so I wasn't going to waste it. While watching the game in comfortable chairs, I went through three submarine halves, two salads, two chicken strips, three chocolate cookies and two brownies. And that's just what I can remember. The subs had the softest, best tasting bread I've ever eaten."

John might take the East Coast Tour again, but in 2022 he'll be taking the Midwest Tour. After visiting Milwaukee and Minneapolis, he will have visited every stadium at least once. John closed his statements by saying, "Thank you, Big League Tours, for providing me quality experiences over the years, well worth the money."

We're thankful for the opportunity to host you, John! Thank you for continuously choosing Big League Tours.