We love getting to share the experiences of our guests who have completed their goal of visiting all 30 MLB stadiums! Cecil and Pat N. completed their baseball bucket list this past summer. Here's what they had to say about traveling with Big League Tours:
"Cecil and I started traveling with Big League Tours in 2018 with the East Coast tour, visiting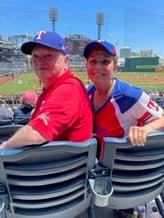 Boston's Fenway Park, the Baseball Hall of Fame, the Yankees at Yankee Stadium, the Mets' at Citi Field/Shay Stadium, and the Baltimore Orioles at Camden Yards. In 2019 we did the Midwest tour to watch the Chicago Cubs and the White Sox and the Milwaukee Brewers; in 2021 we participated in the West Coast tour; in 2022 we went on the Mideast tour to visit Cincinnati Reds, Detroit Tigers, Cleveland Guardians, Pittsburg Pirates, and Toronto Blue Jays; in 2023 we did the Southeast tour visiting Washington Nationals, Tampa Bay Rays and Atlanta Braves and later the Midwest tour visiting Minnesota Twins, Chicago Cubs, Milwaukee Brewers, Chicago White Sox, St. Louis Cardinals and Kansas City Royals. We visited a couple stadiums on our own over the years due to our own schedules, to make all 30 stadiums.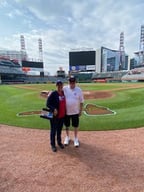 What makes Big League Tours different from other travel experiences is the ultimate convenience in going from one stadium to the next, not having to book the excellent seats at each stadium and great hotels in which to stay that Big League Tours provides, and getting to meet and talk with several outstanding baseball representatives on the tours, such as Ron Kittle. Each tour director that escorted us had a wonderful sense of humor, was an outstanding planner seeing after all his charges, and going out of the way to make each trip memorable for everyone.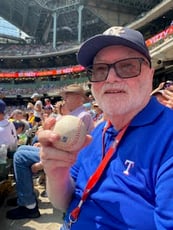 Some of our favorite experiences were visiting the Baseball Hall of Fame, Fenway Park, Wrigley Field, and catching a foul ball in Milwaukee, and Truist Park in Atlanta.
The main reason that we would recommend Big League Tours is that they are a very professional outfit that coordinates everything perfectly and are extremely helpful always."
Congratulations, Cecil and Pat! We're honored to be a small part of your accomplishment. Thank you for choosing Big League Tours!