The World Series is set to start next Wednesday. And while it's a great time to watch the best in baseball play for the title, it's also bittersweet as it also signals the end of the baseball season and baseball tours. I recently ran across this quote from former Commissioner of Baseball, Bart Giamatti, that I believe sums it up very well.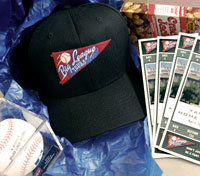 "It breaks your heart. It is designed to break your heart. The game begins in the spring, when everything else begins again, and it blooms in the summer, filling the afternoons and evenings, and then as soon as the chill rains come, it stops and leaves you to face the fallalone. You count on it, rely on it to buffer the passage of time, to keep the memory of sunshine and high skies alive, and then just when the days are all twilight, when you need it most, it stops."
So for now, we'll soak in the last that baseball has to offer for 2012 and we'll look forward to where our 2013 baseball trips will take us!