We know one thing about people who purchase a Big League Tours package, they love to travel! Something else we know; travelling the world can't even prepare you for what New York City will throw your way. With two ballparks and countless other baseball attractions, it's crucial to make sure you know the best way to explore the city before you head out on your own.
Here's the run down of "Navigating NYC 101":
Using public transportation is a MUST:
Ride the subway at least once!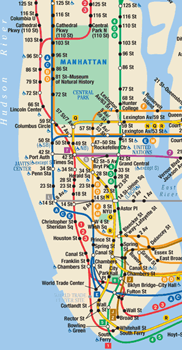 When you first enter a station you'll want to purchase a MetroCard from a self-service machine. Fares are (as of 9/25/12) $2.25 each way and usually allow you to switch lines without paying another fee, just make sure you don't exit the station. I would recommend a minimum of $5 every time you add money to your card in case of an emergency. MTA is the subway system in NYC and the fastest way to get from point A to B.
Once you get your card, enter the turnstiles by sliding your card through the machine, look at the image on the machine so you know which way to place your card. After you swipe the card, you're remaining balance will show on a small screen and you can now enter through the turnstiles.
Now that you're inside you'll look for the colored circles with the number or letter of the line you want to take. Subway lines are color-coded depending on where they go and you'll want to pay close attention to if the signs say "Uptown" or "Downtown". Uptown heads north and Downtown south. If you aren't travelling to Queens or Brooklyn, these are the main things you'll need to know about directions. If you accidently get on the wrong train, exit at the next stop and consult a map on how to get back to where you were.
Subway doors close quickly so make sure you're ready when the train arrives.
NOTE: If you have an iPhone, maps will provide you with which line you should travel to get to your destination.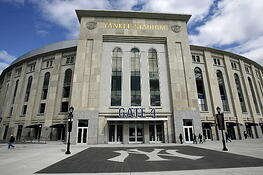 Directions to Yankee Stadium from the Grand Hyatt Hotel
-Walk to Grand Central Terminal on 42nd Street
-Take the 4 Subway towards Woodlawn (Uptown)
-Exit at 161st Street/Yankee Stadium
-Walk 500ft. to Yankee Stadium
Note: Returning you'll take the 4 (downtown) to Grand Central Terminal/42nd Street
Hail your first cab in NYC.
You'll see cabs everywhere you look; it really is just like the movies! Be aggressive because they'll take advantage of tourists without thinking twice!
So here's how it works… Cabs with their lights on are available, just step off the sidewalk, stick out your arm, and they will come. Hailing a cab from a sidewalk may make them think you're unsure. Be aggressive and you shouldn't have a problem.
When giving your location to the driver, it's important that you seem very sure of where you're going so they don't try and take you the long way.
For example, say you're trying to spend your afternoon at the Bergino Baseball Clubhouse to grab a few souvenirs. Try this:
I'm headed to 11th Street between University Place and Broadway.
This way the driver knows that you know exactly where you want to go.
Throw on your walking shoes.
Walking in New York City is the best way to take in the sights as you travel to your destination. It also gives you some time to people watch. The concierge desk always has great directions but don't forget to grab a map just in case you end up somewhere you hadn't planned on!
------
So there you have it. My main suggestions for exploring NYC like you've been there a dozen times. They may seem simple but it's easy to get lost in a city of more than 8 million people. New York City has an endless amount of baseball destinations outside the stadium; take advantage of them without getting lost!
Check back in the next few weeks to see a list of our 2013 Tours and get signed up for the trip of a lifetime in one of America's most exciting cities!