When I joined the Big League Tours crew in May, I kept wondering if I'd get the chance to join the group on the road or if Glenn and Doug would keep me locked up staring at a computer for eight hours every day. Luckily, a few weeks in, they finally decided they liked me enough to assist Martha Ellen for part of the Midwest Tour. I'm an Indiana girl but I've gained a few friends throughout the past four years of college so I was thrilled for a little work and a little play in the Windy City.
Being a tour guide may be classified as work, but let's be serious, is attending baseball games and staying in luxury hotels really a job? Anyway, at the beginning of my adventure I felt like others thought I was just the daughter of someone on the tour instead of the person leading the tour! I guess that's what happens when you're fresh out of college?
Back to baseball… I'll admit it, I'm pretty much a newbie to the whole baseball world and Wrigley Field was only my second MLB stadium so I was thrilled to see that Wrigleyville had the same atmosphere as the area around Fenway Park. Lots of baseball loving, beer drinking fans that are sure to enhance your experience!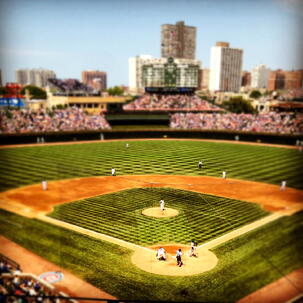 For me, the atmosphere makes your experience and both Wrigley, Miller Park and US Cellular all managed to impress me. From the people at Wrigley, to the craft beers and spending the day with Ron Kittle at Miller Park in addition to the fireworks at US Cellular, they all provided me with great memories of my first trip with Big League Tours.
Of course there's more to it than just the baseball, the people travelling with us were one of a kind and by the end of the trip I felt like I'd gained a second family. One of the best memories was celebrating an 87th birthday with Walt, our favorite grandpa that everyone wanted to steal by the end of our trip. The more the merrier was definitely a true statement with the group of 20 that joined us. Check back in October for our 2013 Baseball Tours schedule to see when we'll be hosting the Midwest Tour again!
Thanks every for making my first trip a true success!
Kayla