The following article appeared in the Indianapolis Star today. It's a very nice feature of our company history and the unique baseball trips that we offer.
Big League Tours arranges special trips for baseball fans
It took awhile, but Glenn Dunlap has figured out how to pitch deluxe package tours to major league baseball fans.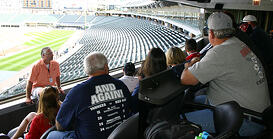 Sell East Coast games to West Coast fans. Schedule frequent tours to historic Wrigley Field and Fenway Park. And promise customers short bus rides, stays in convenient downtown hotels and meet-and-greets with ex-big leaguers.
"It's inevitably one of the most popular things our guests experience," Dunlap said of the drop-in visits he arranges with former baseball stars. "It just gives you a different perspective when you talk to (ex-Pirate) Dave Parker about hitting and you are standing on the field."
Dunlap's Indianapolis company, Big League Tours, expects its formula to produce its first profitable year this season, after the recession of 2007-09 threw his 6-year-old business a curve.
Based on pre-bookings, sales this year should be 10 percent to 20 percent higher than his best year of 2008, said Dunlap, who works a day job as a business consultant for startups.
Dunlap's tours aren't for the faint of wallet, which is one reason the recession hit the business hard.
Big League Tours' most popular option (offered four times this year) is a combo package of games at Fenway Park in Boston, and New York's Yankee Stadium and the new home of the Mets, with a stop at the Baseball Hall of Fame in Cooperstown, N.Y., thrown in. The cost: $2,440 per person, including hotels and meals.
Dunlap found he can market to a sub-section of baseball fans he dubs "stadium hunters," who want to visit as many of the 30 major league ballparks as they can, often taking children, spouses or parents along for a family bonding experience. To keep logistics simpler, Dunlap limits tours to 15 to 20 people. Repeat visitors make up 40 percent of bookings, which tells him his concept is a hit.
Ron Kittle, a former slugger for the Chicago White Sox and other teams who does public appearances for the White Sox, has spoken to several of Dunlap's tour groups.
"He's created a pretty good reputation for himself," Kittle said of Dunlap. "It's great what he offers."
Fans especially like the ballpark tours and early admittance to the stadiums that Dunlap arranges, Kittle said. "Not everybody gets a chance to be in a stadium and see things up close. Nowadays, with security procedures, it's hard to get in early."
This year, Dunlap added two one-day bus trips, both leaving from Indianapolis to see the Cincinnati Reds play. He's marketing the day trips to companies to give to employees as motivational rewards.
So far, Dunlap sees little demand for spring training tours, despite rising fan attendance at spring training camps.
Dunlap is tour guide for some of his trips and hires three guides to handle the others.
The business gives Dunlap, a baseball fan since boyhood, the chance to pursue his personal goal to visit all 30 major league parks. He's up to 24, with two set to be added to his list in 2012.
What: The business offers baseball vacation packages to major league baseball games. Thirteen baseball travel tours are offered this year.
Headquarters: Indianapolis.
Owner: Glenn Dunlap.
Founded: 2006.
Customers: Forty percent are repeat customers. Less than 5 percent are from Indiana.
Trivia: The company has had only two rainouts in six seasons.
Online: www.bigleaguetours.com.
You can learn more about our 2012 Baseball Tours by following the link.