May 10, 2008 - Despite finishing the MLB tour with a rained out game, the trip as a whole was a great time. We saw a game at Yankee Stadium, toured Yankee Stadium (and even got in the clubhouse!), received autographs from several of the players, took in the sites at Shea Stadium (although they were damp), and had our Big League Player Experience with Miracle Mets team
member Art Shamsky.
Here are some things that our guests had to say about our baseball road trip:
"Dana & I wanted to thank you so very much for the great time we had in New York. We appreciated your thoughtful, caring attitude toward creating a truly once in a lifetime major league experience for both of us. You have successfully fulfilled your mission of creating a first class big league tour." Dana G. and Darrel M.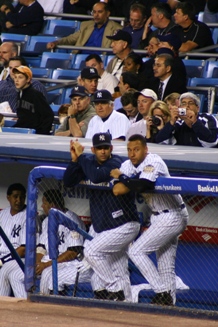 , Grand Junction, CO
"Christine and I wanted to thank you for the wonderful time in NYC. We really had a blast and the baseball experience was outstanding. As I stood on the warning track in center field at Yankee Stadium and heard the voice of the "Mick" , I have returned to the fold as a Yankee fan. The seats were wonderful for both games and Christine was especially pleased to get so close to the field and to the Mets. I am sure we will meet again!" John and Christine L., Athens, GA
"We really hated leaving New York - love it there and loved the trip. You did a fantastic job putting together what fans want to do and see!" Sonia and Patrick D., Bakersfield, CA
"Tami and I just wanted to tell you what a great time we had in New York. It was a fantastic experience. We're already talking about taking another trip with Big League Tours!" Joe and Tami M., Ball Ground, GA
"We had a wonderful time on the baseball trip - you took great care of all of the details and it made for a wonderful vacation. We had never been to NYC before and this was such a fun way to see the city for the first time. The seats at the stadiums were great too - we would never have been able to get those ourselves. Finally, meeting Art Shamsky was a highlight. We had no idea what to expect, but we were really glad that we had the opportunity to do that. We have already talked about traveling with Big League Tours again." Bridget and Jeff M., Rochester Hills, MI