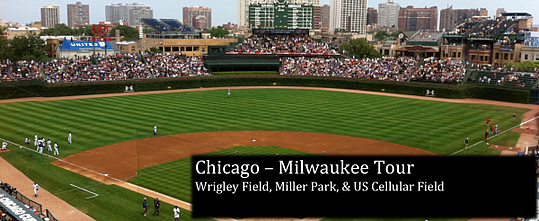 The Chicago/Milwaukee Tour: Includes Wrigley Field, Miller Park, and US Cellular Field

June 30, 2012- July 4, 2012
The Windy City will be our host as we take in three games in four days featuring six different teams. We'll have great lower level seats in historic Wrigley Field then, take a day trip to Milwaukee for a game at Miller Park. Our tour's last game will have the Rangers taking on the White Sox at US Cellular. No unpacking, packing and re-packing your luggage, because we'll relax in the same first class hotel all 4 nights. Chicago is a Big League Tours' favorite and this tour is always one of the most popular.
Tour Itinerary
Sat. June 30 Guests arrive in Chicago
Sun. July 1 Wrigley Field- Astros @ Cubs, 1:20PM
Mon. July 2 Miller Park- Marlins @ Brewers, 7:10PM
Tues. July 3 US Cellular Field- Rangers @ White Sox, 7:10PM
This Package Includes:
Lower level seats to three (3) MLB games
Hotel accommodations for four (4) nights in Chicago
Transportation to/from stadium and between cities
Big League Player Experience – Player or MLB Insider, TBA
Stadium Tour (if schedule allows)
Plus, Every Big League Tour Includes:
Lower Level Seats - Our Exclusive Guarantee!
Great Hotels in prime locations - Our Exclusive Guarantee!
Big League Player Experience - Our Exclusive Guarantee!
Special In-room Welcome Gift
Big League Tours Host
Big League Tours Souvenir
Get Inside the Game - Meet Ron Kittle!!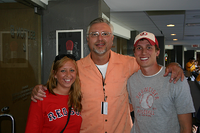 Ron Kittle, former White Sox slugger and American League Rookie of the Year in 1983, is joining Big League Tours in Chicago for our Big League Player Experience. Don't miss your chance to meet Ron, talk to him about his amazing career that almost never was, and get an inside look at US Cellular Field.
For more on Ron, Click here.
Standard Package Pricing
Double Occupancy- $1,750 per person
Third or Fourth in the same room- $1,150 per person
Call for Single Pricing
*Player appearances, schedules, pricing and other details are subject to change