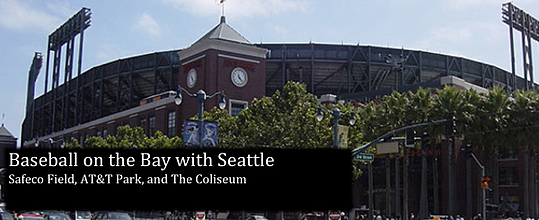 Baseball on the Bay with Seattle: Includes Safeco Field, AT&T Park and The Coliseum
June 29, 2012- July 3, 2012

Here's a great long weekend tour that visits 3 ballparks in 4 days. We'll start our baseball vacation tour in Seattle to watch the visiting Boston Red Sox take on the hometown Mariners. A short flight takes us to the San Francisco Bay area to enjoy a walking, San Francisco food tour an a game at beautiful AT&T, and then a trip across the bridge to Oakland to catch the A's in action. All the Big League Tours extras like great hotels, great seats, and an MLB player experience are included.
Tour Itinerary
| | |
| --- | --- |
| Friday, June 29 | Safeco Field- Red Sox @ Mariners, 7:10PM |
| Saturday, June 30 | Travel to SF. San Francisco Food Tour |
| Sunday, July 1 | AT&T Park- Reds @ Giants, 1:05PM |
| Monday, July 2 | The Coliseum- Red Sox @ A's, 7:05PM |
This Package Includes:
Guaranteed Lower level seats to three (3) MLB games
Hotel accommodations for one (1) night in Seattle and three (3) nights in San Francisco
Transportation to/from stadium and between cities
Big League Player Experience – Meet Vida Blue!!
Stadium Tour (if schedule allows)
Plus, Every Big League Tour Includes:
Lower Level Seats - Our Exclusive Guarantee!
Great Hotels in prime locations - Our Exclusive Guarantee!
Big League Player Experience - Our Exclusive Guarantee!
Special In-room Welcome Gift
Big League Tours Host
Big League Tours Souvenir
Get Inside the Game - Meet Vida Blue!!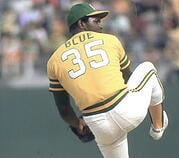 Vida Blue, 6 time All Star, 3 time World Series Champion, Cy Young Award Winner and AL MVP, is joining our group in San Francisco for our Big League Player Experience. Don't miss your chance to hear great stories from his career, ask questions, and get photos and autographs with Vida!
For more on Vida Blue, Click here.
Standard Package Pricing
Double Occupancy- $1,785 per person
Third or Fourth in the same room- $1,285 per person
Call for Single Pricing
Due to the rising cost of fuel and airline fares, guests who book this tour after April 1 may be subject to a transportation surcharge.
**Player appearances, schedules, pricing and other details are subject to change