Vida Blue - Following his Major League debut the summer of 1969, Vida was the 1971 American League Cy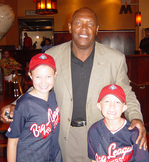 Young Award winner and Most Valuable Player. As part of the Oakland A's, he won three World Series Championships in 1972, 1973 and 1974. He appeared in six All Star Games and was the first pitcher to start an All Star game for both leagues.
Blue played for three teams - the A's, Giants, Royals. He was traded to Giants in 1978 for 8 players and $390K and promptly won 18 games that year. The Mansfield, Louisiana native resides near San Francisco and actively promotes the game of baseball. You can see more of Blue's statistics on the MLB.com site.
We're very excited about the returning of Vida Blue as part of our Big League Player Experiences on our West Coast and Bay Area Tours. Vida has made a couple of appearances for us (appearance in 2006 at Chop House above and in 2008 below at AT&T Park during Giants batting practice) and is always a fan favorite.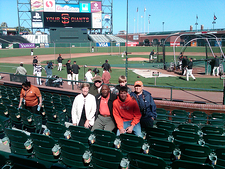 About the Big League Player Experiences - Get inside the game like never before when you meet up with Big League ballplayers on each of our baseball road trips. Players like Vida Blue, Bill Lee, Dave Parker and Tom Browning have joined us on our tours. Join us on a Big League Tours and you'll see what our guests tell us is the favorite part of their experience. See more about the Player Experiences.