I hate group travel. This admission will seem odd coming from a guy who owns a baseball travel / tour operator business - but it's true. I don't like being told that I only have one hour to see this or an hour to do that. I like flexibility in my schedule to do what I want.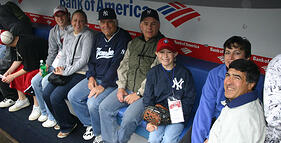 Some baseball vacation packages will give you that flexibility and give you an opportunity to do things that you might not be able to do on your own. For instance, traveling by motor coach can get you to places more easily than trying to drive there on your own. (Have you been to Cooperstown? It's really close to...nothing!)

Groups can also arrange for private baseball stadium tours, on-field time at the stadiums, or meet & greets with baseball players. The cost of these events on your own might be difficult to do.

Most group tours are escorted tours. This gives you someone with local knowledge to guide you throughout your trip. Where should we eat dinner? How long will it take us to get to a certain site? Etc. All things that should make your trip more enjoyable.

And finally, package tours should provide you with the convenience of getting a unique trip with one phone call. You won't have to track down hotel reservations in a city you don't know, tickets in a stadium you don't know, transportation, and on and on.

There can be many advantages for taking the trips that will even make them enjoyable for a guy like me, who hates group tours - except ours...